How Can Facial Aesthetics Make You Feel Younger!
We are excited to announce that we are now offering treatments that improve the appearance of fine lines and wrinkles. Facial aesthetics to make you feel younger!
Muscle relaxing and filler injections soften or remove lines leaving you with younger, smoother looking skin and feeling rejuvenated,
What Are The Treatments?
After an initial consultation where we talk through in detail the improvements the treatment can make for you, we will recommend a treatment plan and give a full estimate of costs. Both treatments we offer are completely safe and last around six to nine months.
Treatments will dramatically improve the appearance of frown lines in the brow and forehead as well as the appearance of "crows feet" around the eyes. These lines are caused by the the lifelong action of muscle movement.
Wrinkle reducing injections temporarily weaken or paralyse these muscles preventing them from causing the skin to crease. The treatment is relatively painless. The effect takes around two weeks to fully develop and lasts six to nine months.
Dermal fillers are made from hyaluronic acid, a naturally occurring substance in the body that is also used in many expensive cosmetic face creams. When injected just below the skin it plumps the skin, smoothing hollows and replacing shape lost due to ageing. They are particularly effective at smoothing "smokers" lines above the upper lip, marionette lines in the chin and the line that appears between where your lip joins the cheek just below the nose.
The process is relatively painless and the treatment generally lasts around six months. The effect is immediate and there are no side effects apart from possibly a small bit of bruising at the injection sites.
Look Good!
While there are some people in the media who have obviously "had work done" in reality almost anyone in public life who looks "good for their age" will have had some facial aesthetic treatment. The trick is to keep it subtle so you look good, but it won't be obvious to others exactly why – the stereotypes of "fish lips" and actresses who can't make any facial expressions do not apply here!
Our patients often say their friends think they're looking "well" but won't know why unless you tell them.
Like everything we offer at Riverside, you can be sure that we have the highest standards of treatment and that we will always have your well-being at the centre of anything that we do.
Contact us for more info on; 01271 813721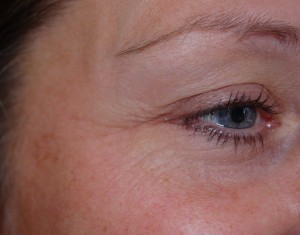 Crow's feet wrinkles before treatment.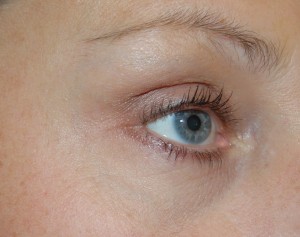 Improved facial aesthetics after treatment.