Every 10 minutes a child in England has a rotten tooth removed in hospital.

Tooth decay is preventable but remains the most common reason for hospital admissions for children aged 5-9 years
As the government's Soft Drinks Industry Levy comes into effect, PHE's Change4Life campaign is encouraging parents to swap sugary drinks for healthier alternatives to protect their children's teeth
Read the report here.
Braunton Dental Nurse Mercy Ships Volunteer.
Our dental nurse Kate is in the papers again this week, with her trip to volunteer onboard a hospital ship in Cameroon – still time to donate!
Read the article here.
Riverside Dental Nurse Heads To Africa
A dental nurse from a practice in Braunton is heading out to Africa to volunteer onboard a hospital ship providing emergency dental care to people in desperate need of treatment.
Kate Rogers works for Riverside Dental, but will be leaving the North Devon village behind on February 24th to join other medical staff for a month on the ship 'Africa Mercy'.
The vessel is operated by the charity Mercy Ships who provide free, often life saving treatments in impoverished regions where frequently there is little or no medical care at all. Kate will be working in the central African country of Cameroon.
"This will be the third time I have been to Africa as a volunteer, but this is my longest stint by far," said Kate. "The dental team I'm working with will travel inland each day to treat people who need it – a great many people need urgent help over there."
Africa Mercy has seven operating theatres, wards and cabins for the volunteer crew. They travel to poor countries where conditions are harsh and healthcare is almost non-existent.
"Patients out there often have complex needs, even life-threatening conditions," added Kate. "It is a challenging place to work because of the climate and things like regular power cuts, which of course means our dental equipment won't work."
Kate often carries out procedures on her volunteer missions that she wouldn't do in her normal job at Riverside Dental in Braunton, like filings, simple extractions and anaesthetics.
"We see hundreds of people, often queueing to see us all day in 35 to 40 degree heat – sometimes even having to com back and wait again the next day. No-one complains – they are just really grateful that we can treat them. It is hard work for us, but incredibly rewarding."
The hospital ship "Africa Mary".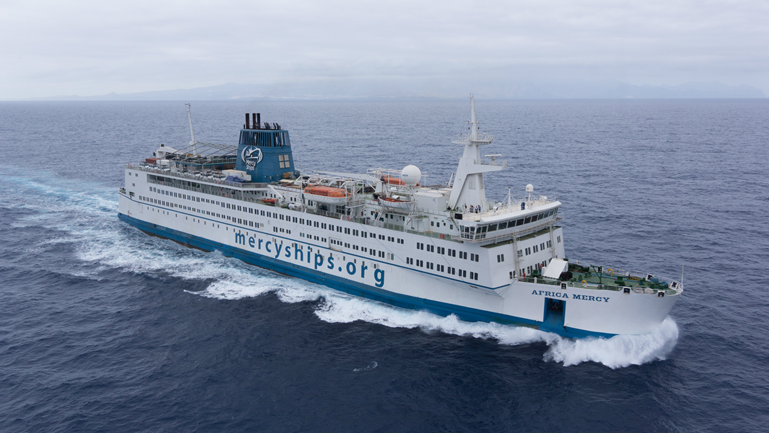 Kate Rogers performing a filling on a previous volunteer mission in Africa.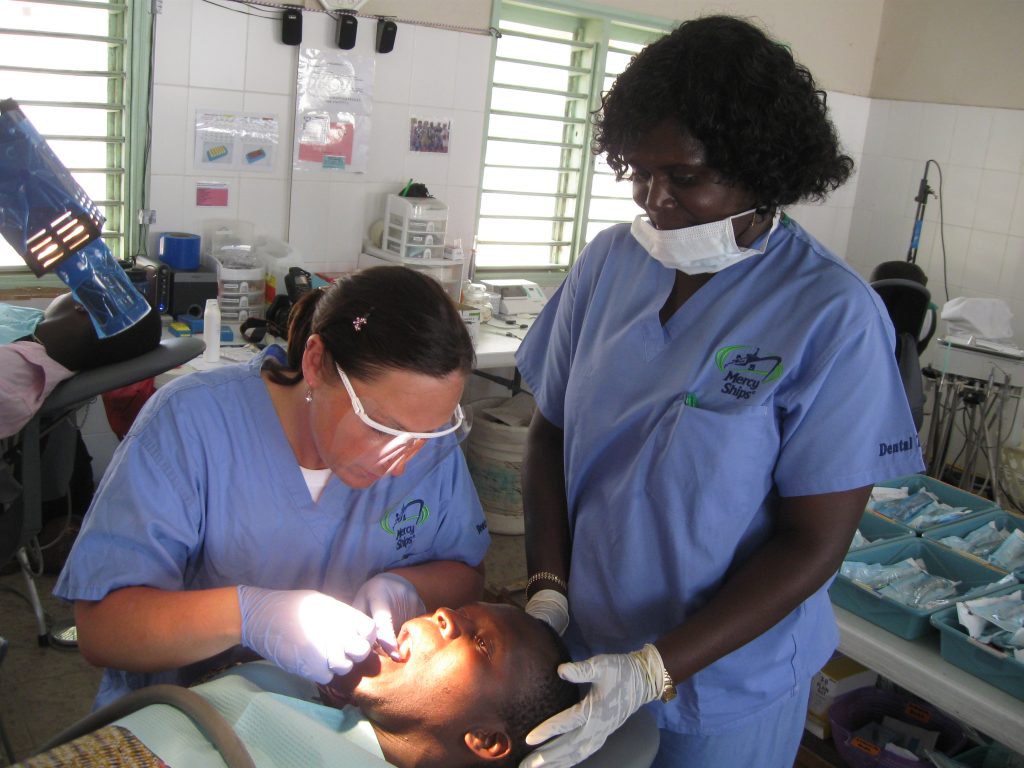 Saturday opening in 2017 – news release 03.01.17
With Rebecca Richardson joining Riverside Dental in Braunton permanently this year, we're continuing to open on some Saturdays in 2017. Dentist and hygienist appointments will be available.
Increased opening hours means we're still able to take on more new patients, with appointments currently available during the week and at weekends – please phone our reception team on 01271 813721 for more details.
Between now and the end of March we're open on the following Saturdays from 9am – 1pm:
January 14th
January 28th
February 11th
February 25th
March 4th
March 18th
We'll publish dates for later in the year in the near future.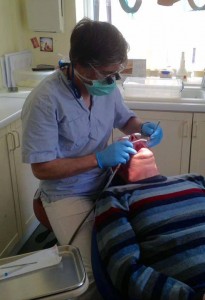 Long serving dentist retires – news release 30.12.16
The end of 2016 sees us wave a fond 'goodbye' to one of our long-serving and highly respected dentists.
John Walley has worked part time here at Riverside Dental, Braunton, for the last seven years and has worked at many different practices in North Devon since he moved here in 1984. John came to Dentistry relatively late in life but has still devoted more than 40 years to caring for the region's gnashers!
It's finally time for him to take a well-deserved retirement and whilst we are going to miss his company, we hope he enjoys the extra time it will bring.
John's list of patients will transfer to Rebecca Richardson who is leaving Vicarage Street Practice in Barnstaple and joining us early in 2017 on Thursdays as well as continuing with her Saturday mornings.
The image below was created by our team as part of John's retirement present – good luck John!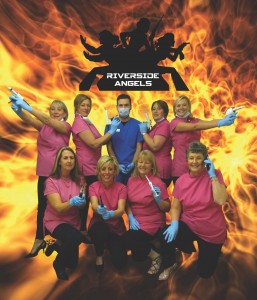 New opening times & new staff at Riverside Dental, Braunton – news release 09.11.16
We're opening on some Saturdays from this weekend so that we can give you more flexibility on appointments, and take on more new patients.
The dates and times confirmed so far are 9am to 1pm on November 18th and 26th, December 3rd, January 14th and 28th, February 25th. Dentist and hygienist appointments will be available on these days.
We also have another new staff member who has just started with us after two years working in Barnstaple, Joe Lander who joins the Riverside team as a Dental Nurse.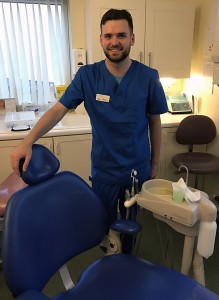 Riverside Dental Practice expands – news release 13.10.16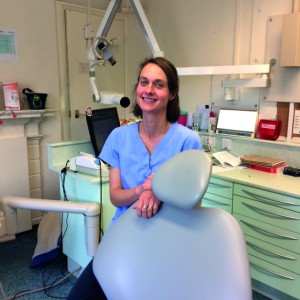 The family run Riverside Dental Practice in Braunton is expanding in November with the addition of new local dentist Rebecca Richardson.
Rebecca says; "I moved to Devon with my family three years ago, after falling in love with the scenery and the landscape while on holiday. I'm looking forward to joining the team to be able to offer high quality dentistry to the whole family in a relaxed and genuinely caring environment."
It means the practice will be able to open on two Saturday mornings each month, and take on more private patients.
"With today's hectic pace of life it can be difficult for people to fit in appointments during the week, especially if you have a family," said dentist Chris Preston. "We're really excited to be able to start offering Saturdays, and to have the opportunity to take on new patients."
Alongside the new weekend dentist appointments, a hygienist will also be working the Saturday shifts and under the General Dental Council's 'Direct Access' scheme you don't need to registered with the practice to use the services of a hygienist.
This year Riverside Dental has also started offering on-site hypnotherapy with Lee Evans, which has been especially useful for nervous patients, plus dentist Chris Preston has now trained to give cosmetic Botox and filler treatments.
Well-known hygienist retires after 40 years service – news release 30.09.16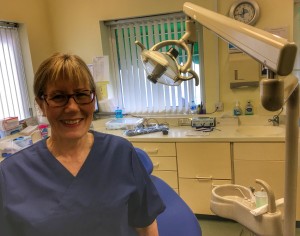 North Devon dental hygienist Sheila Davison is retiring after looking after thousands of local patients' gums for the last 40 years.
"Sheila has undoubtedly helped many people keep their teeth over the last four decades," said dentist Chris Preston of Riverside Dental Practice in Braunton.
"We're all really sorry to see her go, but hope she can enjoy her extra free time feeling satisfied with an amazing career and the knowledge she has helped so many people."
Sheila worked for several practices in the area since she started back in 1976, but was a fixture at Riverside for the last few years. From October Sharon Jones, who has herself been with the practice for 15 years, will be taking over Sheila's Friday sessions.
Our family run Riverside Dental Practice in Braunton is expanding in November with the addition of new local dentist Rebecca Richardson, and will be opening on two Saturday mornings each month. We are currently open to new private patients to register.